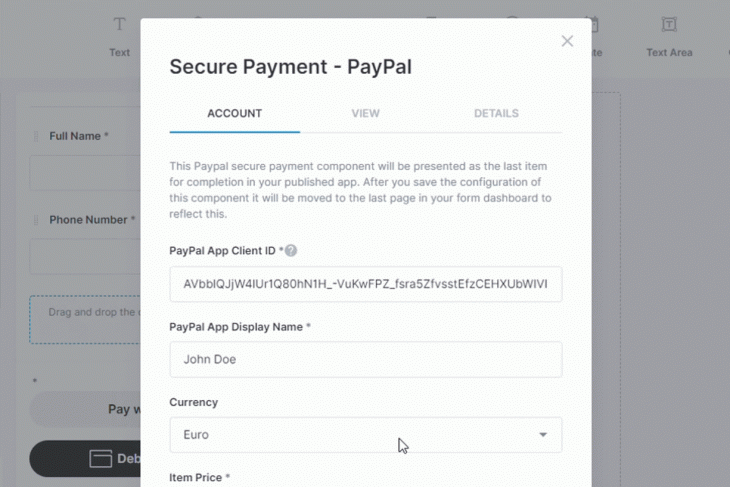 Building a PowForm payment Form
We have discussed how to set up your first form in this article. It is a useful template for prospecting customers and an invaluable cold calling tool for sales teams. So you would have collected some of your customers' data to gauge their interest and register them to your service. In the example below, we would have needed an email address, their film of choice, and the time. So, the registration app is exported, and the customer is engaged with your product/service and wants to proceed with a payment. The second step in our two-step solution is now underway.
Getting Started with PowForm
The payment form still begins as normal, you sign in to your dashboard and enter further information that is needed from your customer. For our example case study, we will just require the customer's name and phone number. The phone number is useful for notification of payment as well the final stage of the sales process, the follow-up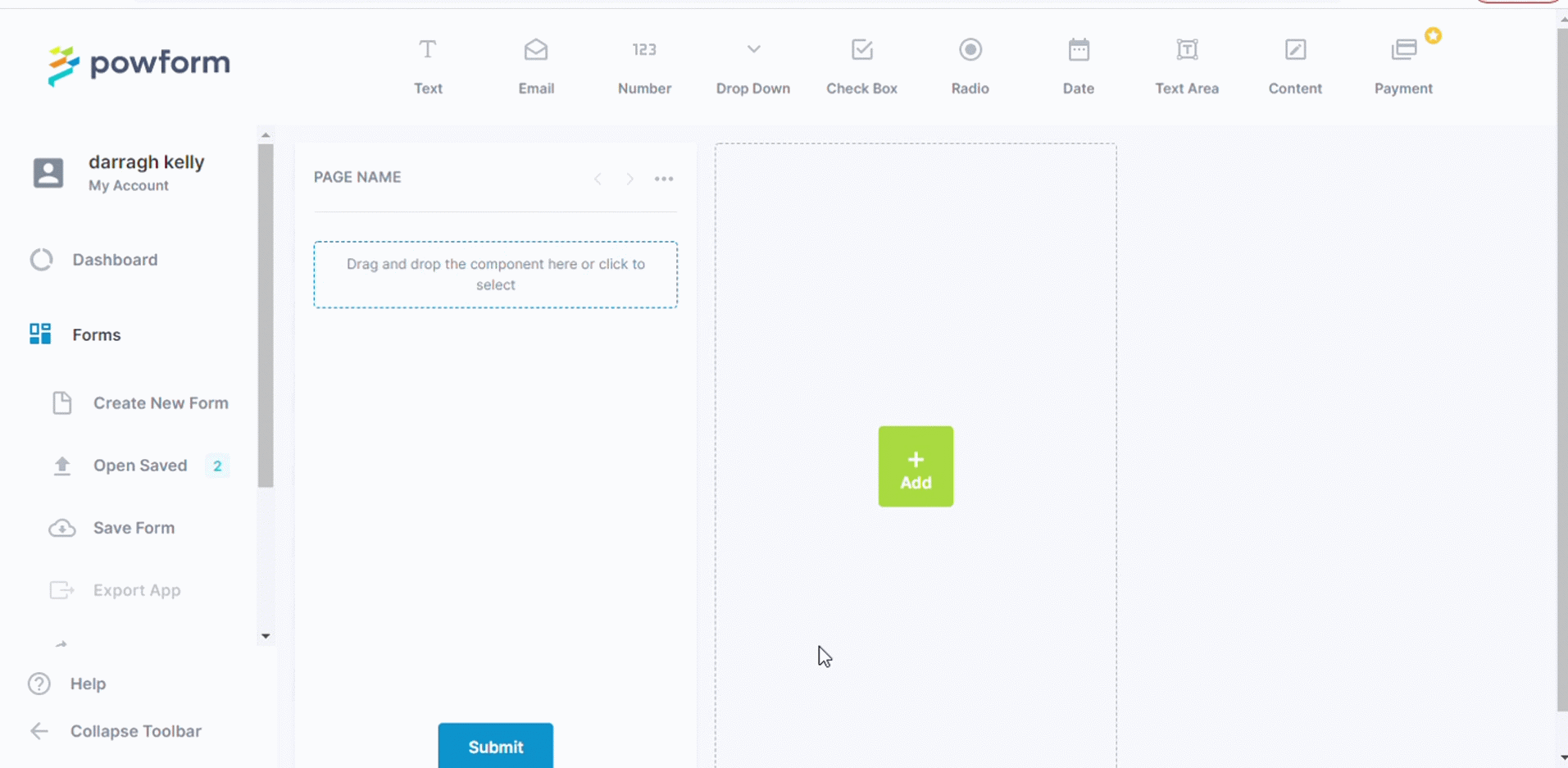 The payment option is on the right-hand corner of the screen. Keep in mind that the payment option is only available for Premium Plan and Enterprise Plan subscribers. 
The final decision is arguably the most important part of the buying process, and PowForm is here to make that stage as smooth as possible. PowForm adds our own customer data management system, with an email list that has no limit, so it is useful in prospecting. With our time limit on customer membership, it is also a great tool for customer qualification. We then combine it with PayPal's easy and safe payment method for an efficient payment and collection system. 
The Payment Form
Your PayPal App Client ID will be used to connect PayPal and collect payment from customers. Once you begin exporting apps, it will work the same way for your customers. They receive an invitation, and they enter their account details through our premium web branded app. For now, you select your currency of choice and the price of the item.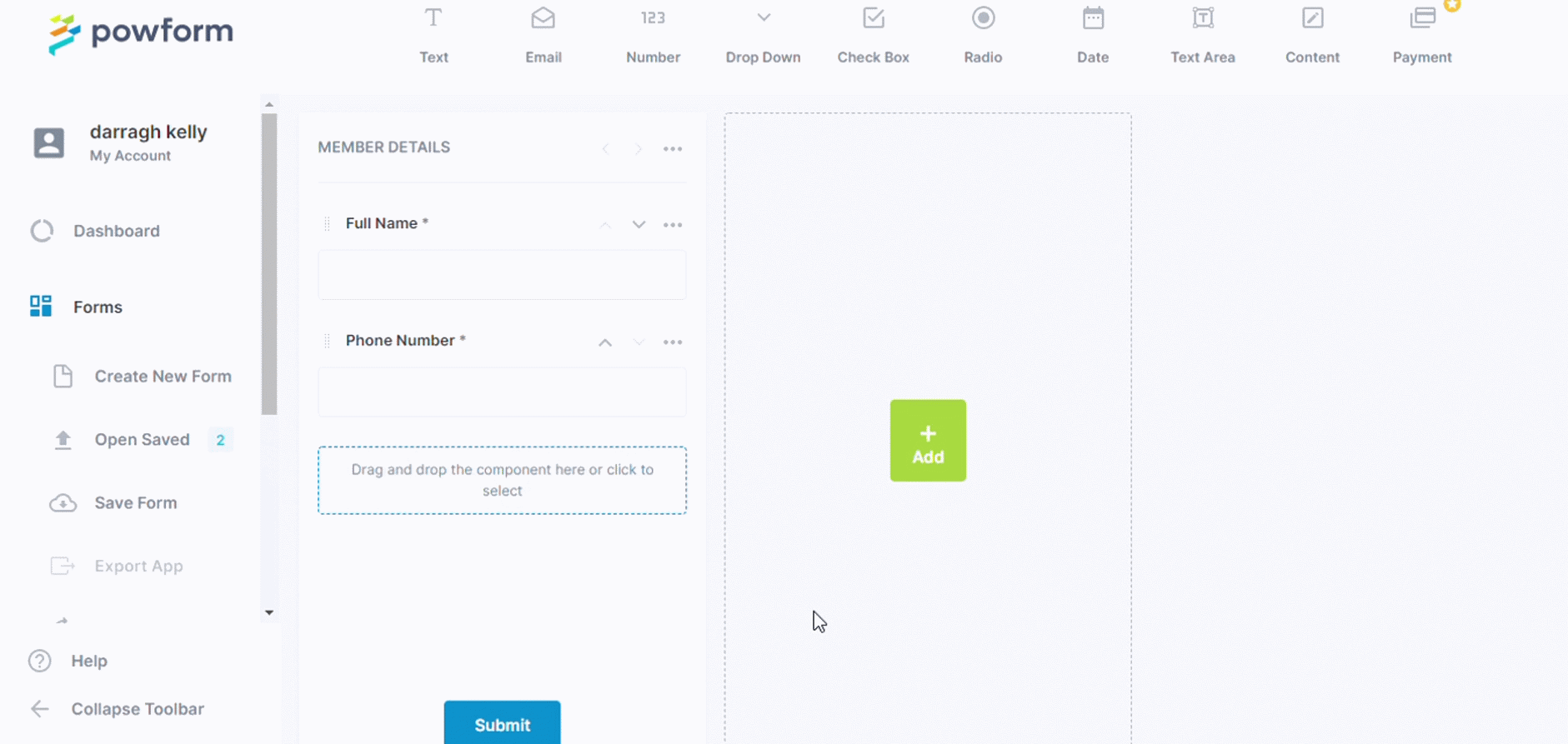 PowForm's PayPal component integrates with PayPal via the PayPal app client ID. At PowForm, we pride ourselves on providing effective data protection at all levels, our efficient PayPal component combining with the PayPal app is our way of providing a smooth and safe experience. 
https://developer.paypal.com/developer/accountStatus
PowForm has also provided a link to the Sandbox PayPal App Client ID, which can be used in the PayPal component before you add your own, familiarising yourself with the form before using any personal/business details.
https://developer.paypal.com/docs/integration/paypal-here/sandbox-testing/configuring-accounts/
It is from this point on that you can get creative with how your customers see this page. The 'Buy Button' is a key piece of the UX (User Experience) and should not be overlooked. PowForm offers all current elements of the PayPal 'Pay Now' button design.
PayPal advocates the use of the colour gold if a business wishes to borrow some of PayPal's brand equity, as customers may enter into a transaction with PayPal easy payment in mind.  The signature gold button stands out from any other item on the page (what marketer Seth Godin calls 'the purple cow').
PayPal's research gathered that blue is the colour that customers associate with the PayPal brand. This may not suit your website if it has a blue palette already, as the 'Buy Button' should not blend in with your existing design, the gold is an option that works for most designs (barring gold websites of course).
PayPal also recommends Silver, White and Black as secondary options that will suit the aesthetics of your website and do not detract from your own website colour palette and your own brand. While they are happy to lend a business some of their brand recognition, they also know that a business wants to establish their own style, so they have also included these neutral colours (including a debit/credit card payment option) for that purpose.  PowForm ensures that both options can be used at the same time, so customers can choose their preferred method of payment and be drawn to those gold and blue 'Pay Now' buttons at the same time.
Powform also has Disable Funding Sources that are perfect for international use; some forms of payment are not applicable in certain parts of the world. PowForm utilises PayPal's payment technology and adds our own detailed customer/client  information database. This allows you to accurately keep track of your client base through every stage of the sales process.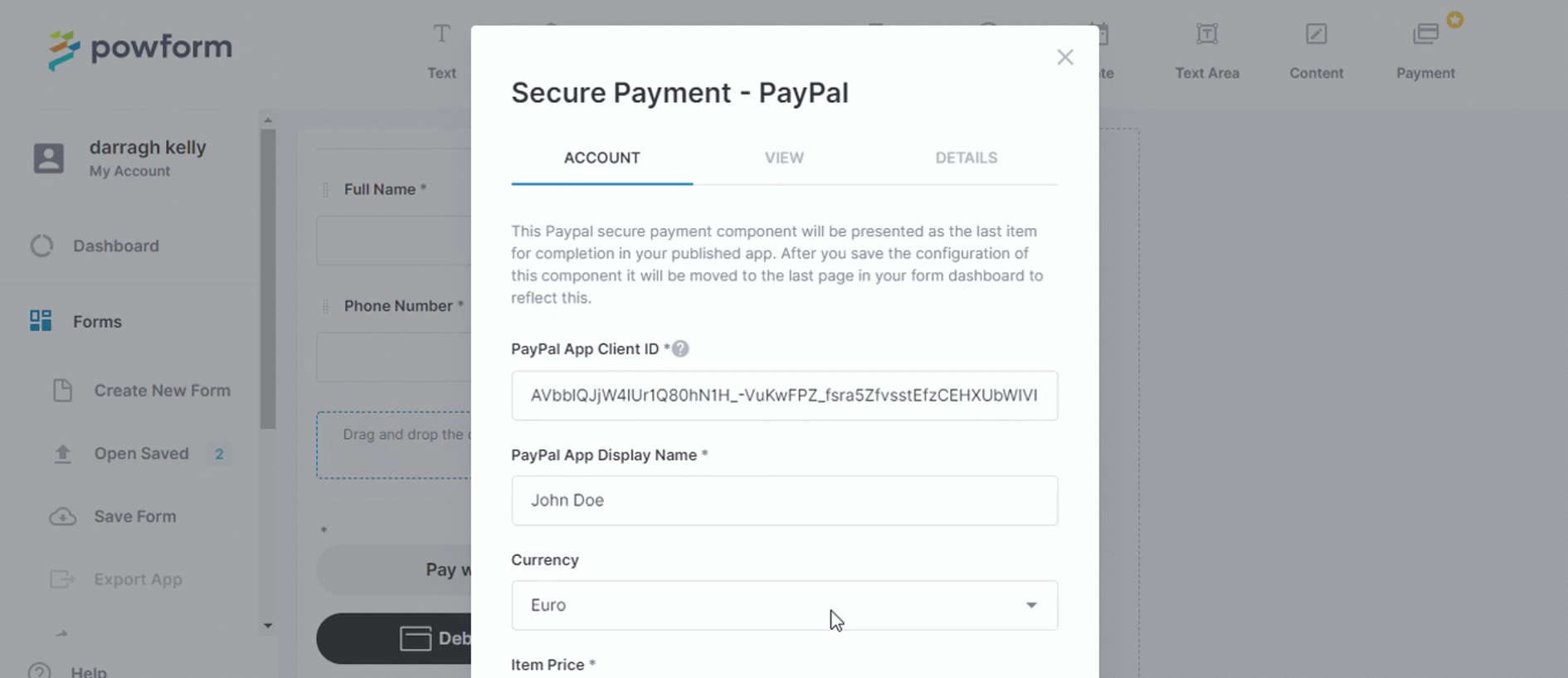 The payment component can be tailored to your needs, if payment is required to access your service then PowForm has provided a required checkbox. If not, let's say a charity with a voluntary contribution element, the required box can be left unchecked. The interested party can still sign up to be kept up to date on the charity's goings-on without being pressured into making a donation.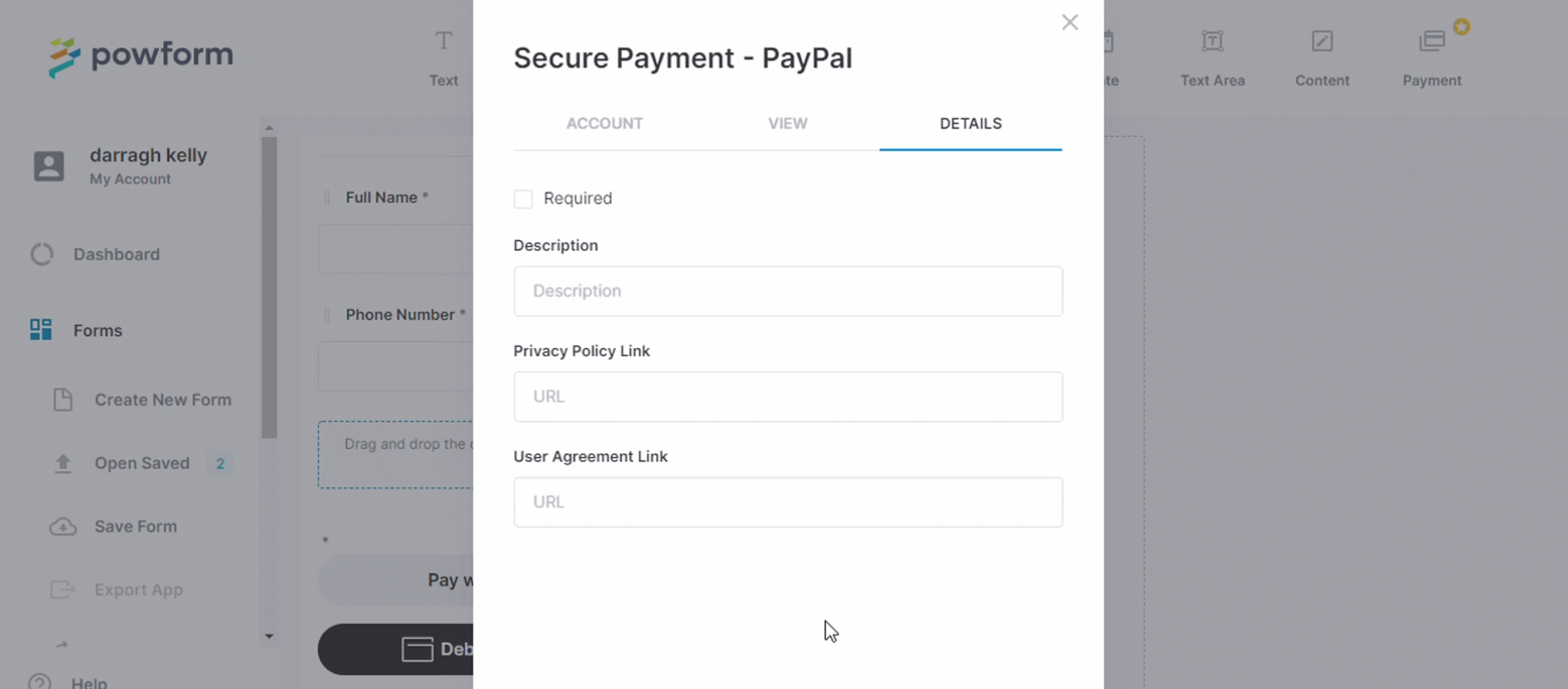 PowForm gives you the option of describing your privacy policy and linking to the necessary Privacy Policy and User Agreement links. PowForm also provides the option to make the reading and understanding of these terms required before proceeding with any payments.  If you do not have your own, we have provided links for PayPal's here.
With the initial registration form and now the payment form complete, Powform has provided a two-step solution to prospecting, qualifying, and registering your customers. We have also provided a safe and secure way to collect payment for your product/service.
Highly Configurable - No Coding
Build professional and fast branded e-commerce and customer data collection web apps, no coding experience needed. Scalable solutions that can be built and integrated into your business in minutes.

Powform enables you to create branded, interactive, multi-feature apps for mobile and desktop browsers, including all the smart features you need to collect customer data and payments. With the addition of conditional logic you can provide a more tailored experience for your customers.

Our managed secure database allows you to store and analyse all submitted web app data.

Want to store all app data in house?
App submissions can be directed to other business systems via secure authenticated api services.
Contact us today to discuss your custom branded no-code web apps requirements.
Get Started Now